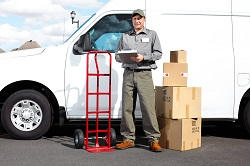 Moving with Kids - Make the Process Easy for Them
'Honey, I can't calm down the kids!' You are going to be hearing a lot of this on the day you decide to move. And in some ways you expect it too, right? With all the frenzy you have been experiencing, you can't really expect your kids to maintain their calm! While you may be looking at the organisational aspects of relocating and creating checklists for every possible category, the emotional effects of the same might be neglected. But it is necessary that you understand what the consequences of this upheaval could be. While you are excited about your new neighbours and neighbourhood how does the move impact your children? So edit your to-do lists and put this task – 'get kids emotionally ready for relocation' at number one.
The right time
You may be waiting for the correct hour to drop this news near your child and this may mean missing out on precious support time. It is highly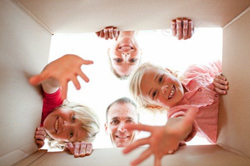 recommended that you let your children know about the move before the movers arrive at your doorstep. Whether they take is as a pleasant surprise or a rude shock is up to them. Rule of thumb – let your kids know as soon as you know. There is a high probability that your kids might not take the news so well. Kids dislike being removed from the security of the familiar which does not mean that they cannot get used to the new. So the more time you give them to soak in the news, the better behaviour and support you can expect from them during house removals.
Empathy does it all
You might be having a pretty hard time yourself with all the removals quotations, packing dozens of boxes and notifying others of your address change, but remember, your children also need your attention. Make it a point to sit with them for some time and put yourself in their shoes. Try to understand and sympathise with the dilemma they are experiencing. Let them know that you are on their side, you understand their apprehension and that you are ready to help. If you are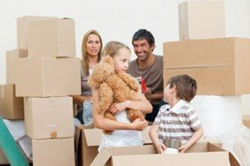 moving to a location that can be gotten to in a road trip, plan an excursion with your kids to go and see your new place. You can even visit their future school if you have already decided on that. Most of the times, children's fears dissipate when they see that the new place is not radically different from their old locality. Dealing with teenagers can be trickier as they might have put loads of efforts to form their present social circles which they might be opposed to breaking up. You can assuage things by promising future visits or play dates or sleepovers as and when possible. Such efforts will definitely be appreciated and your kids might give you unprecedented support when moving house.
Post shifting therapy
Parents are a child's greatest therapists. After you have waved goodbyes to the house movers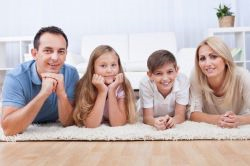 and officially completed your relocation, don't cut yourself loose for the day. You have to make them feel welcome in the new environment from day one. Try to arrange their new room in a pattern similar to the old one. Get them involved in choosing the lamps and wallpapers of their rooms. Encourage them to continue being in touch with their old friends via telephone or the internet while at the same time getting to know the new kids in the neighbourhood. Swing by the local clubs and get them involved in their favourite activities like swimming or badminton. That will help them ease into new social circles quickly.